Wedding Countdown App
Wedding Countdown is a free wedding countdown timer app for Android. It helps bride and groom to create wedding countdown for their wedding ceremony.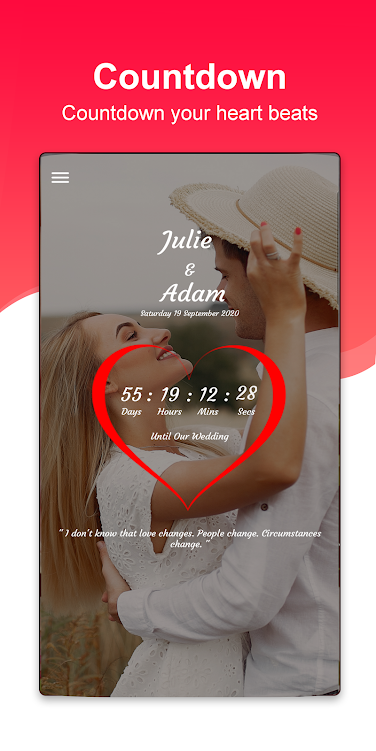 Design
This amazing wedding app will give you an unforgettable experience until your wedding day. Design your wedding countdown in different styles and themes using this app.
Create your stylish Wedding countdown using app's built-in design options with live preview. It gives you lot of options to change the entire look and feel of your wedding countdown page.
Invite
App's Wedding invitation maker helps you create your own wedding invitation in a few minutes, without having to worry about customizations and time consuming procedures.
Also create your own Invitation Card, which is fully customizable; add your desired font styles, font colors and size to each headers to complete an Invitation Card for your wedding story.
Love quotes
With love quotes and joy right there to fill the picture, your customized and saved cards appear right at your home screen of Wedding Day Countdown app so that sharing and modification stays right at your fingertips.
Share
Our unique features is Share option, which lets you invite your partner, friends and family members to the Wedding count down app through a short app link which gives an option for them to watch your live countdown and works as a wedding reminder too.
Features
Wedding Photo
Wedding Song.
Daily Love Quotes.
Rich Design tool.
Customize Options
Awesome Decoration Shapes
Invitation Card.
Built-in Collection of Background Photos.
Collection of Countdown Themes.
Live Share Option. (app & web versions)
Easy Setup
If you ever had to think about how difficult and time consuming it is to create a common way to let your family and friends know about the ceremony to take place, then think no more for a one-way-out solution to make things handy. Wedding Day Countdown app lets you go through the process in 2 simple steps.
📌STEPS📌
1 . Start out by filling who is getting married and when. We'd like to know the names of the wedding couple and the date of the event.
2. Customize with your favorite photo, music, appearance etc. This is where we would like you to help you in creating the perfect decoration for your wedding card.